It's week 6 of St. Vladimir's Summer School! The assigned reading this week is Last Sacrifice, the final book in the Vampire Academy series.
***SPOILERS AHEAD***
Last Sacrifice wastes no time picking up where Spirit Bound left off, throwing the reader into the prison cell where Rose has been impatiently waiting news of her trial. After a daring and explosive (pun intended) escape initiated by Lissa and the rest of the usual suspects, they are split into two groups, both working against the clock to get answers. While Lissa and the others at court struggle to find Queen Tatiana's murderer and clear Rose's name, Rose and Dimitri chase down a rumor - a rumor of an illegitimate Dragomir child whose existence has the potential to change court life as they know it.
Following these two plots is made easy by Rose's one-way bond with Lissa, which seemed to start off as a way to build their relationship but has become a pretty useful plot device that Mead has used throughout the series. While the suspense of finding the murderer and the Dragomir child was hampered a bit by the predictability of the plot (that the child would exist and that they would find her was obvious, though I hadn't guessed the identity), Last Sacrifice was just as engaging and easy to read as the previous novels, and I was thoroughly satisfied by its ending.
And when I refer to 'the ending', I'm pretty much referring to the way things ended between Rose and Adrian. As you may recall, I was a little frustrated by Rose's denial of her feelings in Spirit Bound, and so it should be of no surprise that even though I knew where Rose was coming from, I LOVED seeing Adrian finally let her have it. Adrian seemed to progress as a character in those last few chapters than he did in the entire series, and for the first time I felt like I truly understood him - I understood Rose's comments about him being a 'victim', I understood what she meant by them not balancing each other out, and I understood his anger at her attitude and at himself. It felt like a real conversation between two people, especially because it was free of the excessive snark and banter that makes Rose both entertaining and annoying.
I can confidently say that I'm glad to have jumped on the Vampire Academy bandwagon, even if I am several years late. It's been a thoroughly enjoyable ride that I feel ended at just the right time, unlike many Young Adult series that I know (Maximum Ride, I'm looking at you). I've grown to love these characters, and I'm SO glad that I've connected to Adrian just in time to start Bloodlines. :) Thanks to everyone who told me to give this a chance!
---
I usually do 'lessons learned' as part of Summer School, but because this is the last book in the Vampire Academy series and I was in detention last week, I thought I would do art class instead!
My summary of the first three books (since I haven't reviewed them), in pictures:
Vampire Academy:
Frostbite: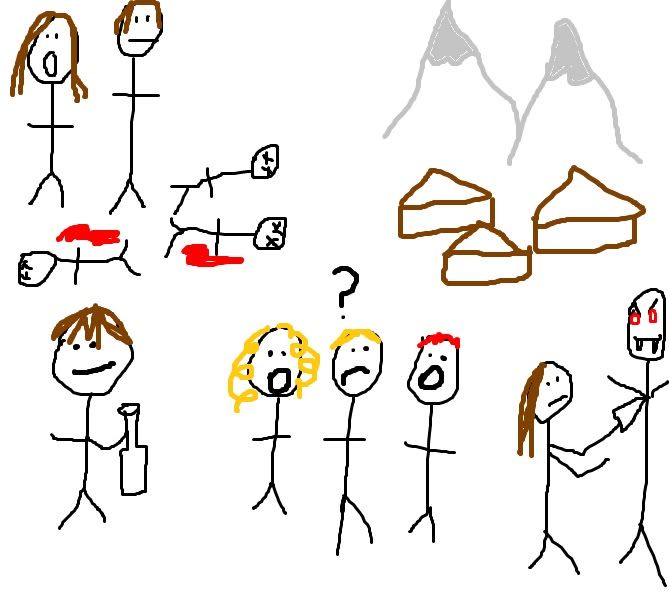 Shadow Kiss:
Recognize any scenes? Let me know if you do! (I seriously don't blame you if you don't.)
Though I joined late, I had so much fun doing Summer School and meeting more bloggers! Thanks for letting me join in. Be sure to check out their Summer School posts as well!
On to Bloodlines! :)